Faceasit application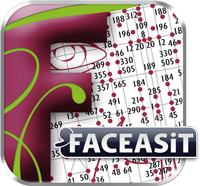 After having written the book Multireflexology - Dien Chan in Spanish, French, English, Portuguese and Italian, we currently recommend a new concept of format more in line with the XXI century; an interactive application called Faceasit'clinic.
The application has all the information and is able to do calculations once the anatomical area has been chosen. It allows us to study the face diagrams of projection and the map of fix points.
FACEASiT'clinic fully contains all the theoretical basis of knowledge of Multireflexology - Dien Chan;
it is not a simplified version of the real technique, neither a brochure of diseases.
It is a real treatments calculator.
Some other explanations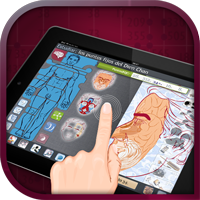 We have translated Faceasit full manual into different languages so any user can chose the version they prefer in order to understand the application totally.
Our Faceasit application is much more than a catalogue of diseases and allows you to design personalized treatments in Multireflexology - Dien Chan.
Just as therapists do, first we chose the part of the body affected and then the symptoms more similar to the description of the disorder.
Faceasit calculates and suggests the reflex zones or points that have to be stimulated in order to solve the problem.
In each version of Faceasit, the results are accompanied by tips and pointers to perform the best treatment.
Some details about each version

The free version, Faceasit'reflex, calculates protocols in reflex areas of the face. These green areas are a summary of the Multireflexology - Dien Chan points with the reflex zones of the diagrams of projection applied to each disease.

The Faceasit'pro version provides results in reflex zones and fixed points and allows to study the method. His section on diagrams, allows us to choose the anatomy affected and discover all the diagrams of projection involved in the process of self-regulation.
In the same way, the section on the study of the map, offers us the opportunity to understand the relationships between anatomy and fix points.
Thanks to new technologies we can do connections with other people, which is not possible through a book.
A new pedagogical dimension opens up to us.

The Faceasit'clinic version offers all these benefits and adds the ability to customize the treatments. You can design your reflex points formula and transform it into areas if you prefer.
In this way, you can share with your patients the resulting map for treatment.
Faceasit'clinic is a real database for therapists who want to preserve the history of the patient.
It is also a perfect notebook of treatments if you use Faceasit for personal and family use.
Why Faceasit is not available on all devices?
Faceasit is a complex application and involves an investment if you buy it through the AppStore from Apple. We cannot take risks and we avoid using it on unreliable devices so far.
Many tablets are sold with Android operating system, but no manufacturer guarantees an evolution of your device in parallel with the progress of the operating system they use and which is developed by Google or Microsoft.
When you buy an Apple iPad, you are assured of a brand with high visibility, which provides a strong cohesion between the tablet and the operating system.
This means that people are working and inspecting each application or publication that is offered in your AppStore (Apple Store).
They reject what does not work or does not follow established quality criteria.
This does not exist in Google Play (store for Androïd applications); that is, there is no guarantee when you buy an application.
Besides, when you acquire an iPad, you know that your applications will work for several updates and tablet models.
Neither Samsung or Sony worry about the future. This means that if we developed Faceasit for these other tablets, we would have to deal with complaints due to some malfunctioning; which would have nothing to do with us.
If you need a solid and reliable tablet, if you also want to check your email, discuss, participate in blogs and social networks, etc...
We recommend a high quality tablet. The Apple iPad is the least risky option.
Do not trust tablets under $200; it is just a commercial appeal.
You should know that Apple salesmen get tiny commissions in comparison to the ones that other brand sellers get.
We do not get any commissions because we only believe in ethical economy and not on speculation.
Apple is the brand that offers us best support and best quality.
Remember Faceasit works in all versions and iPadmini is cheaper and also good.
To learn more and watch videos on this amazing application, see our manual at www.Faceasit.com.