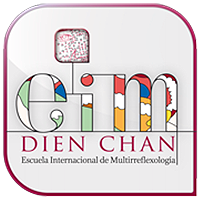 The school of Multireflexology
Founded in 2002 under the name of CLUBQC, the school was born thanks to the close collaboration with the Viê Y Dao Center in Saigon and Professor Bui Quôc Châu. Its purpose is the dissemination and teaching of Multireflexology - Dien Chan. During these years we have organized a team of teachers and we have written the programs for each level of training. Taking as a starting point notes from Pr. Châu, we have adjusted it into a program more adapted to the occidental pedagogy.
After having written the book Multireflexology - Dien Chan in Spanish, French, English, Portuguese and Italian, we currently recommend a new concept of format more in line with the XXI century; an interactive application called Faceasit'clinic.
We have a network that gives constant educational support to our students.
Since it was discovered, multireflexology technique has evolved. Students can take advantage of these developments, we have revised and redrawn diagrams of projection of Dien Chan following the historical tradition of technology and experience accumulated over the years.
After giving the clubqc to Professor Châu, we have created our school, the EiMDC, Multireflexology - Dien Chan International School. We are a team of authorised trainers who offer certified courses on Multireflexology - Dien Chan in different European countries, Latin America, Canada, Caribbean, Polynesia and Africa. All our students receive a complete and common program without simplifying the foundations of the original technique. Our courses are accepted and integrated in the program of institutions and schools of international reference in the field of natural therapies.
Thanks to the trust of all our students and the serious work of our teachers, the EIMDC has become a school of international reference. We can say that the certification of our different therapeutic levels is already a guarantee for our patients as well.
How to choose the best training?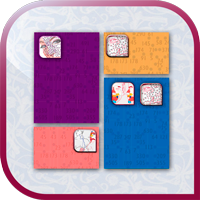 When we are looking for a training in natural therapies we are usually in front of loads of proposals; all of them can be valid. For this reason we find it extremely important that, before starting any training, you verify and check professionalism and quality.
Our training programs are designed and adapted for adult audiences who may not have much free time. We focus on keeping the original basis of Multireflexology - Dien Chan to safeguard the foundations of the technique. Many students start with Dien Chan and once they have finished their training, they keep studying other fields.
Multireflexology - Dien Chan is a technique that receives knowledge nourishment from occidental and traditional Chinese medicine. This is why it is so inspiring.
Our courses are aimed at those who want to learn Multireflexology - Dien Chan, the real multi reflexology technique. No simplifications or dilutions; this means that we watch closely that our trainers do not go off topic, as consequence of their passions, teaching Chinese medicine, dietetics, Buddhist philosophy or Tao te king ... not found in the course syllabus.
Of course we do respect all these fields, but from the EiMDC we work to protect the integrity of the theoretical principles and practices of the Multireflexology - Dien Chan and we must continue to focus on our preset program.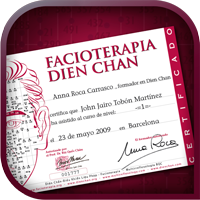 We feel the need to clarify this point to respond to many people who have contacted us in order to have some reference when choosing their training.
Our programs, and all treatments given during the course, are fully adapted to Occidental reality in our professional consultations. From 2002 up to the present, we have helped to Prof. Bùi Quôc Châu to order and adapt his treatment protocols and training programs that were designed for a Vietnamese audience. The Professor had the generosity and humility to teach his patients, most of them from disadvantaged social status; many of them did not have any formal education. He taught them how to become their own therapists and take charge of health.
In the western world, the reality is quite different. We do not have much free time to do the courses due to our hectic way of life but, in return, our students are used to learning and studying. This is why we can have a faster pace; always respecting the original technique. For instance, we find it very important to share our treatments with real patients during our trainings, this is why we invite those who want to be treated for free. With the first level of training, we also give our students the only book in Spanish on the Dien Chan technique. It is a complete and updated book.
We also have a digital pedagogical support club for students so once the course is finished they still can have illustrated pedagogical material, some advices and clarify any doubt they might have.
How to start studying?
The book and the interactive application are a supplementary material that offers the knowledge acquired with Prof. Bùi Quôc Chau and his team over the years.
You can treat yourself with the multireflex tools any time, even without studying but always following the diagrams and some advices. Any stimulation you do will not harm your skin and will let you self-regulate, feel relief and treat some common aches.
This will be a great way to take care of you!
If you really want to understand the Dien Chan, you should follow a course with a certified EiMDC trainer, the International School of Multireflexology - Dien Chan.
With the book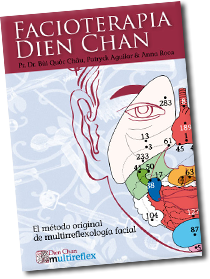 If you want to discover the Dien Chan before attending a course, we recommend buying the book Multireflexology - Dien Chan, the original method of facial reflexology.It has all the diagrams of projection and face map points. This book explains in detail the basis of the technique and, even if it is not interactive, it includes the fundamental theories of Dien Chan and many illustrated treatments. Supplementary to the electronic application, its format allows easy reference anywhere. You can have a look at some pages of the book in detail in the section dedicated to our publications..
With the FACEASiT™ Application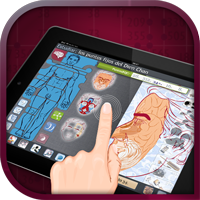 The application has all the information and calculates the treatments when you chose an anatomical area. It helps us studying the face diagrams of projection and a map of fix points.
FACEASiT'clinic contains all the theoretical basis of Dien Chan; it is not a simplified version of the technique. It is not a catalogue but a calculator for treatments.
To learn more about this application, visit our web www.Faceasit.com.
Following a course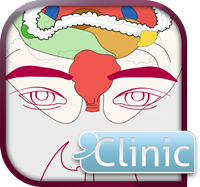 Assisting to the course is ideal.
You can easily work with the application and the studies support. Your trainer will teach you not only the practice but also the most subtle ideas. We want, not only to show you the technique by itself, but also want to have total control of it. If you know the theory and are able to use it well, you will find a lot of therapeutic paths. The classroom course is the best way to learn.
All our trainers are passionate and know that sharing is to feed our natural need to participate in the happiness of others.
Multireflexology - Dien Chan is a technique, not a medicine. It is essential to get comfortable with the movements and learn how to approach a problem. The practical sessions assisted by your trainer will guide you against the very theoretical complexity of any new learning.
To this end, since 2002, the EiMDC team works and improves the educational programs and the course supports of the Dien Chan club.
How to choose a teacher?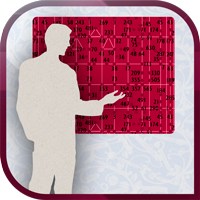 Our courses are for adults. Our philosophy is that trainers should not teach without passion, on the contrary, they have to be passionate by Dien Chan.
Up to 2009, Prof. Bùi Quôc Châu always insisted on the vietnamese subtlety and empathy before authorising any student to become a trainer.
Currently, many former students feel they are already trainers and feel they have enough experience and base to offer Dien Chan courses. From the EiMDC we can only accept and take responsibility for courses organized from our headquarters and we cannot review, or judge, the courses offered in other places.
Unfortunately, alternative therapies are often undervalued. Some people treat these techniques as an esoteric science.
From the International School of Multireflexology - Dien Chan, we do not base our work on the power of the information but if in our talent and experience, in the amassed work during those years and the professionalism of our training team.
Many pupils are thinking about buying a diploma or a secret when applying to a training of natural therapies and this is very sad and discredit the work and the efficiency of many professionals. But it is also true that there are people who take advantage and give response to a demand of a certain public.
We totally agree that anyone has the right to look for a qualified training. This is why we invite you to look for, compare and ask other qualified people before taking any decision.
Make sure your trainer has a good knowledge and a lot of experience and that they have not only read the book and are able to explain any formula of the treatment exposed during the course. They should also be able to do all the diagrams of projection and combine them to make the best of the treatment.
Feel free to assist to the free sessions during the training. At the EiMDC we find them essential in order to apply the theory learnt during the course. A trainer must have demonstrable experience and answer to any question it may arise.
Do not trust trainers who do not answer to questions clearly or have a strange attitude when being asked for doubts.
Make sure your teacher is part of a team of professionals who can prove their credibility, also if they belong to an experienced organisation and that they do not issue false certificates. You can also check if they have any publications, if they have attended to natural therapies conferences or fairs.
It is a pity that we have to write this type of things but, due to the bad experiences of some students in the past and the money they have lost, we want to warn the future ones.
If you want to learn more about the different programs and on each module you can contact our teachers or our headquarters members.
In Dien Chan, we have 4 modules which are enough to learn all the theory. However, practising is compulsory if you want to become a good multireflexologist.
President clarifications
Dien Chan is nowadays a well-known method and Prof. Búi Quôc Châu is a really humble person who can easily accept some highly paid invitations to spread his method, that is respectable. However, first in Barcelona (in 2001) and later in other Countries, we started to organise and structure the training programs to make them more easy to learn for western people. Unfortunately, most of Prof. Bui Quôc Châu students in Vietnam did not always have the chance to finish their studies. Mr. Van Que Nguyen introduced me Prof. Châu in 2001. He had translated the notes by Prof. Châu from Vietnamese into French. These notes were a solid basis to start writing my first notes for the courses in Barcelona. In 2002 I started to write the full manual of the course, first in Spanish and then in French. Through the years, and with Anna Roca's help, we have completed and corrected the diagrams and the fix Dien chan points. We have also adapted to the Occidental pedagogy. Always under Prof. Châu passionate supervision and the collaboration of Bùi Minh Tâm and Bùi Minh Trí.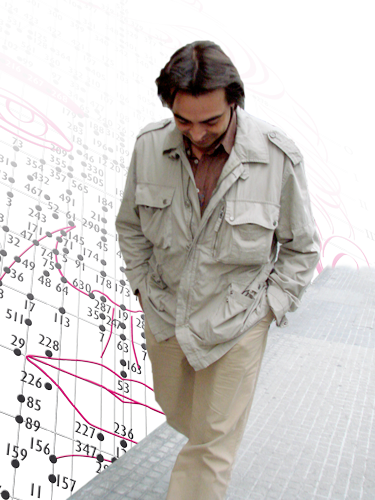 Professor Châu was extremely pleased to see that the Dien Chan had finally found a secretary, graphic artist and writer completely devoted to his method. He always said "you are the link" and we used to play comparing Barcelona and Saigon; which are very similar cities. At that time I used to live at number 26 in my street and he lived in number 19. If you know both points you will understand the joke. In 2006 Prof. Châu and me had two special pupils in Saboya: Sonia Mazzoni (Mrs. Fischmann) and Christine Bretin. We soon started a close pedagogic collaborationship. Christine and Sonia went to Vietnam in early 2007 and worked with Prof. Châu revising the levels of the different programs for three months.
Once they come back, they create and organise the French team in our school. Due to the divulgation of the work, in 2009, Professor Châu is requested by other organisations. He is invited internationally and I decided to give him a present: the official manual published at the Grancher editorial in Paris. I design the cover and the full book in order to save money. I offer Prof. Châu 100% of the royalties of the book the ABC of Dien Chan; a way to keep paying him somehow. I got really surprised when I realised a former pupil from 2009 created the Dien Chan Academy in Paris with organised courses with different levels. We have now reorganised and created the EiMDC and the Dien Chan club.