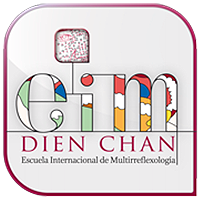 EiMDC
International School
of Multireflexology - Dien Chan
Detailed program by modules
To become a certified trainer of EiMDC students have to pass a theoretical and practical examination after DienChan'master. This lasts at least 2 ½ years. They cannot be professional trainers if they do not know the technique completely.
The different modules of Multireflexology - Dien Chan, run logically and fluently with the following objectives: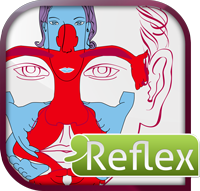 The first module on Facial Reflexology is called: DienChan'reflex.
In order to practice the Dien Chan correctly it is essential to learn to project the different diagrams of projection onto any face.
It is essential to understand how they combine with each other and exponentially; the aim is keeping updated.
We obtain very good results treating pain stimulation with simple techniques with the help of multireflex tools. All our tools are designed according to the yin yang concepts and the observation of their effects.
History of Professor Bùi Quôc Châu discovery.
How fix points were found.
The 12 morning massages, tonic for therapist and patient.
The 8 multireflexologic principles.
The fist 4 diagrams of projection on face.
Multiple applications of the similarity of shape.
Lymphatic reflex-drainage (6 zones massage)
Stimulating techniques and practice with tools.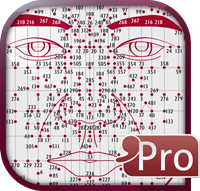 Second module of Facial Reflexology is called: DienChan'pro
Once the first diagrams of projection are fully understood, we study the "bqc·points" map and the different stimulation techniques.
As in the diagrams of reflection study (DienChan'reflex), each line of the coordinate relies on common anatomical contours to all faces. If you study the diagrams (DienChan'reflex) the map of points seems less complex.
Even if the numbers get up to 633, there only exist 257 bqc·points. Prof. Châu discovered new and more effective points every time, so he changed them by others, this is why the numerical continuity is broken.
During the DienChan'pro course, we study yin and yang concepts from a therapeutic point of view and always looking for the practical side -for further treatments- depending on the status of our patient. From this module, we can combine the formulas with the different stimulations.
Practising during the course accelerates the movements that a good therapist must have to obtain immediate relief.
Full study of the map and Dien Chan points.
Points identification and stimulation technique.
Yin and yang applied to facial reflexology.
Complete studies on the formulas for basic treatments.
Application of yin and yang protocols as beginning of the treatment.
Learning to adapt diagrams of projection and formulas.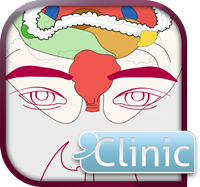 The third module on Facial Reflexology is called: DienChan'clinic
Our ability to project the first diagrams of projection help us to create "reflexological bridges" and verify that "one is all and all is one".
We could quote I-Ching and use metaphors or holographic fractal algorithms to illustrate concepts.
However, practice and ongoing dialogue with the patient are our best sources of inspiration when searching multiple options in our treatments.
Prof. Châu has discovered many face diagrams of projection which help us to create those "bridges". Now that we are able to correctly apply the formulas of points (DienChan'pro) and project diagrams on any face (DienChan'reflex), we have to start designing customized treatment protocols (DienChan'clinic).
Our experience and knowledge in other therapeutic techniques will be of great help to nourish the multireflexologic treatments that we are going to create.
Complementary diagrams of projections.
Unpublished diagrams of the female reproductive system.
Treatments and formulas dedicated to hormonal alterations.
Treatments and Wellness formulas.
Detailed projections of the spine.
Study and use of diagrams of projection of the 12 pairs of cranial nerves.
Multi-projections of the Dien Chan diagrams in ears, feet and hands.
Multi-projections of the urinary system.
The five elements of CTM in Dien Chan.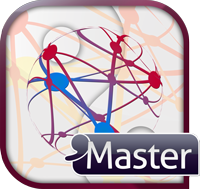 The fourth module on facial reflexology is called: DienChan'master
In order to follow with DienChan'master, students must have practiced for at least one year after DienChan'clinic.
This course is aimed to students who have practiced very much and that have solved a multitude of complex cases.
We adapt to a much more participatory pedagogical dynamics and we give space to the experiences of our students, without forgetting to review some therapeutic principles.
It is about learning new approaches and enrich our treatments.
There are many more subtle concepts in the practice of Dien Chan that require some previous experience so they can be integrated.
We learn to develop treatment formulas from the theoretical principles of Chinese and Western medicine. These "Chan'formulæ" should be supplemented by points and reflex zones of the Dien Chan diagrams.
It is only in this way that we will be able to create custom-made treatments!
Chan'formulæ and its applications.
Acupuncture meridians in Dien Chan.
Multi-reflexologic bridges.
Depth study on given cases.
Integration of essential concepts of CTM in Dien Chan.
Facial Diagnosis.
---
The educational program
Training goals

In order to get better results and become a good Multireflexology - Dien Chan therapist, the trainer teaches you to get familiar with the diagrams of projection from the first module. It is important to see and project the diagrams on any face in 3D , pass from one to another without hesitation and thus treat the patient with the best diagram as fast as possible. The EiMDC offers trainings with a dynamic and chronological pedagogy and ensures the correct integration of the principles and concepts of Dien Chan; without simplifications or variations of the original method. We improve them by giving multiple pathologies in order to show different treatments for them; treatments that have been created and learnt at Prof. Châu clinic in Vietnam for over 30 years.

Mental multireflexologic gymnastics is very important to have the agility and ability to find a solution adapted to the pathology. When we first start studying Multireflexology - Dien Chan, diagrams of projection are essential. This mental exercise will allow newcomers to memorize and easily assimilate the fixed points of the face.

The student must acquire a solid theoretical foundation with the help of printed and visual material, but should not underestimate the importance of theoretical and practical classes. By observing the work done by therapists and trainers who have experience, the student integrates the various techniques. Combine schemes, tools and facial reflexology principles helps us treating more easily and precisely . You have to open up your mind!

The aim of Multireflexology - Dien Chan is to disclose a simple method in order to help patients to listen to their body and become their own therapists (DienChan'reflex and DienChan'pro), the Dien Chan therapist is trained thanks to point formulas (DienChan'pro) to apply generic treatments and, later on, build custom formulas for treatments (DienChan'clinic and 4). The experience of Prof. Châu and its Hanoï and Việt Y Ðạo Saïgon center partners, have allowed him to develop formulas of points based on the knowledge of traditional Chinese and Western medicine (DienChan'master). We can then create new master formulas Chan'formulæ* for our patients.
Observing stains and spots on the face can tell us more precisely the source of the imbalance. It is about learning the meaning of the outward signs, thanks to the knowledge gained at higher modules. We speak of "facial diagnosis".

Dien Chan and beauty: We cannot include the Chan'beauté æsthetic techniques within the Multireflexology - Dien Chan courses. The program is very complete the way it is now.
Chan'beauté is a reliable and complete technique by itself, that needs to be studied accordingly. During the Chan'beauté course we study the application of the facial reflexology to aesthetic therapy.
+ info and program of the course in www.Chanbeaute.com
Philosophy of the courses
*
Introduction course to Dien Chan: some trainers from different schools sometimes offer courses on reflexology with an introduction to Multireflexology - Dien Chan. Unfortunately, we cannot approve this or certificate the training as a Dien Chan course as it is not a complete program on DienChan'reflex technique certified by the EiMDC.
*
bqc·points: fix points placed on the face, covered and mapped by Prof. Bùi Quôc Châu.
*
Chan'formulæ: bqc·points formulas based on the concepts of traditional Chinese and Western medicine combined. These formulas are supplemented with other fixed points and reflex areas to suit the patient's progress.
*
Facial Diagnosis: The stimulation of certain points or observing spots or marks on the face can tell us more precisely the source of the imbalance.
*
Chan'beauté: Beauty therapeutic technique developed by the department of natural aesthetics of EiMDC
The 4 modules of Facial reflexology must be studied chronologically. However, the student is completely free to decide at the end of each module if they want to continue or postpone the training for another time. Four modules are enough to acquire all the theoretical knowledge, the diagrams of projection and the tools. However, we encourage our students to continue their education and study other techniques such as Chinese and Western medicine.
Our courses focus on the multireflexologic method; we do not teach diet and nutrition, martial arts or medicine.
Without magic and always based on philosophy, Multireflexology - Dien Chan is a practical, quick and surprising technique aimed to treat common diseases. Its practise is not harmful or painful and will not encourage the consumption of other products.
Students that have followed a course with a certified EiMDC trainer (former CLUBQC) can go on with their studies with other certified teachers. However, we cannot accept students trained with non EiMDC certified trainers.
It is true that there are other Dien Chan trainers in the world but we cannot certify their knowledge if they do not have a certified EiMDC diploma. This may cause some inconveniences to the students but this is something we cannot control.
We recommend carefully reading the training program you wish to do.
At the end of each course, we will issue a certificate of attendance by the International School of Multireflexology - Dien Chan. This certificate is the guarantee of a complete and professional training.
EiMDC certification
Reliability and experience in the service of teaching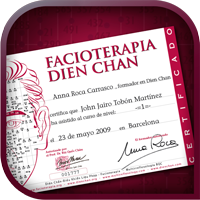 The International School of Multireflexology - Dien Chan (EiMDC) guarantees a reliable and complete certification. Since 2002, students have structured and adapted programs for adults. Students can practise the technique with no limitations in each module.
Teamwork and quality in the program are a reference for future students as well as training centers in several countries. Our certificates are a guarantee of reliability and good service after the training.
The certificate that the International School of Multireflexology - Dien Chan offers gives credit to our students and allows them to continue their studies with the possibility to change trainer or place. This is thanks to our international network of teachers.
Thanks to the job done and to our good references and recommendations, we are a benchmark on facial reflexology.
This is due to your enthusiasm and practice. We can say that the EiMDC is consolidated as an international school and a seal of mulltireflexologic quality. Our teamwork has let us become an international school of reference on natural therapies and massages.
We guarantee:
We have faithfully followed the Việt Y Ðạo training in Saigon (Vietnam)
The programs are original and have not been simplified for commercial purposes.
Training is unanimously agreed by all trainers from our school, meaning that any student can continue their training with another teacher without altering the timing of the syllabus.
We have studied the multireflexology technique in detail. All Dien Chan centers are updated.
A direct link to the technique's origin and a guarantee that the trainer is part of the permanent study group.
The trainer is not only a former student dedicated to teaching, but a professional able to convey and explain the technique and all that entails.
Patients have also the guarantee that their therapists are well trained and with a lot of experience and that they are supported by a team of professionals.
Quality and international recognition for the practice of Multireflexology - Dien Chan.
We offer in each course:
Trainers with proven experience who collaborate with a research team.
Content updated and adapted to western students.
The chance to study the very original method with no simplifications.
Practice with real cases during the training.
Practices among students to learn the correct movements.
International recognition.